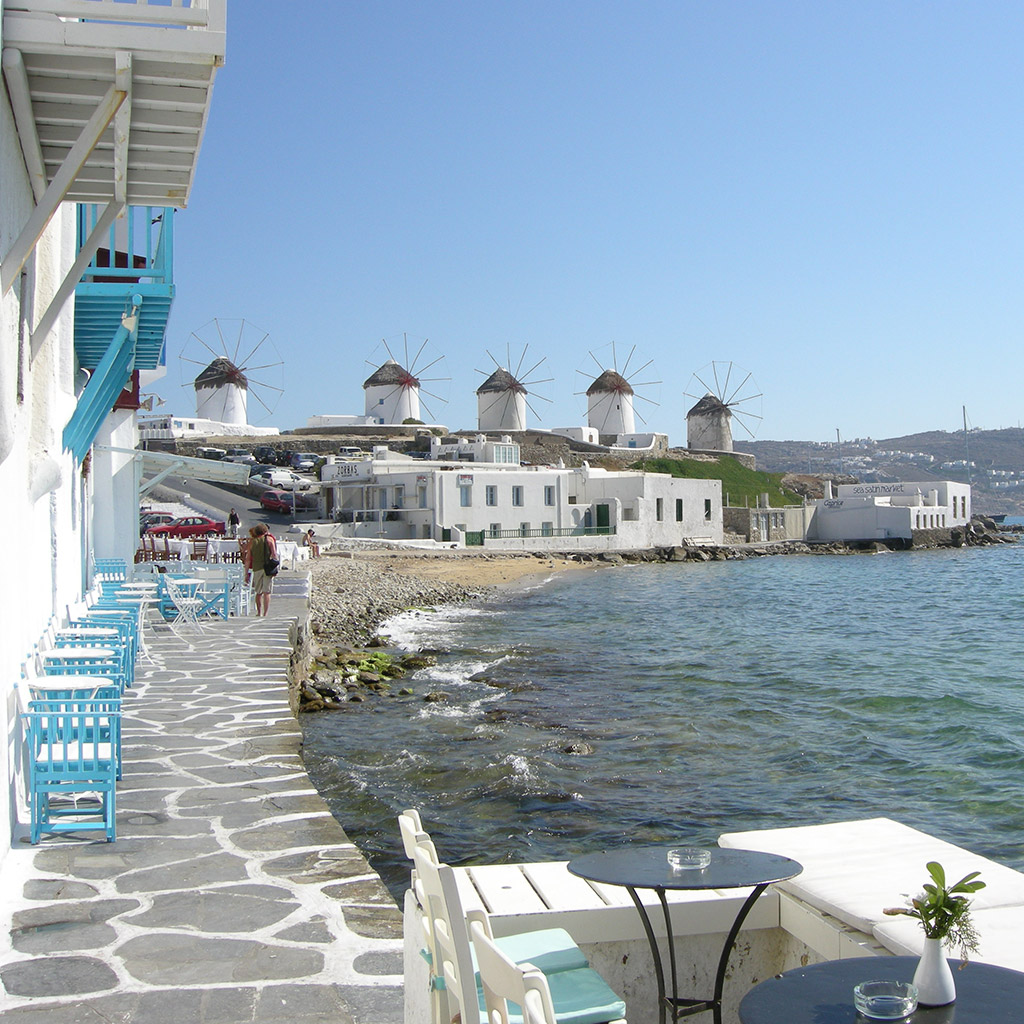 Mykonos is an international crowd magnet since the 1960s and has been voted a top summer holiday destination many times and there are plenty of reasons. Whitewash beaches, top rated restaurants, legendary parties, expensive yachts, dreamy villas, luxury hotels and 5-star service… if it makes you feel like a celebrity, you'll find it on Mykonos. Οne of the best examples of Cycladic architecture is the capital "Hora" which is a must see attraction. Soak up the atmosphere along the lively waterfront and admire a fleet of fishing boats, yachts, sail ships and leisure boats casting colourful reflections in the azure waters. Mykonos is a well-known place which earned great reputation from its vibrating nightlife; moreover, the island is a paradise for water sport enthusiasts, and a worldwide celebrities Hot spot.
What to visit:
Municipal Library  –  an 18th-century mansion housing over 8,000 volumes and a vast collection of 18th- and 19th-century photographs, documents and Cycladic coins and old seals
Mykonos windmills  –  The windmills are a defining feature of the Mykonian landscape
Little Venice  –   rows of fishing houses line the waterfront with their balconies hanging over the sea. Some of the houses have now been converted into bars and cafes and little shops and galleries. Little Venice is considered one of the most romantic spots on the island and many people gather there to watch the sunset. The area attracts many artists who come to paint the picturesque coastline.
Armenistis Lighthouse  –   Is a testimony to Mykonos' maritime history, as well as a fully functioning lighthouse.
Archaeological Museum of Mykonos  –  was built in 1905 to house the findings from the Purification Pit of 425/426 BC, discovered in 1898 on the islet of Rheneia by D. Stavropoulos.
Aegean Maritime Museum  –  was founded in 1983 by the Mykonian George M. Drakopoulos with the goal of preserving and promoting the study of Greek maritime history and tradition. The museum was the first in Greece that rescued and restored living historical exhibits to operate as they were originally designed and built.
Paradise Beach – The most famous area to party in Mykonos.
Cyclades

Little Venice

Windmills

Paradise Beach